Photo's of a vibrant and happy Kashiwagi Yuki in the arms of her then (possibly current) boyfriend have been leaked earlier this month. The two were in a very cozy Ryokan together. Mind you, Ryokan's are not like Love Hotels, a lot of the time Ryokan's are family owned and family orientated. These Inns are very welcoming and usually a hot spot for couples or families. That shows significance within the relationship apart from physical connections.
Of course, we all expected the worse to happen to Yuki, surprisingly, this is being ignored. A milestone moment that could potentially change the "no boyfriend rules" for adult members of AKB48 and her sister groups.
Kashiwagi being placed in NGT48 has not been linked to the scandal officially (as of June 24, 2015)
Fans from both Japan and abroad have spoken out against AKB48 for their form of punishment back when Minegishi Minami was begging for forgiveness. As for Yukirin, fans also threatened the management in favor of her well being and happiness. Some fans even exclaimed "if she's happy, we're happy, if she leave's we'll leave".
AKB48 can't afford to lose Yukirin fans.. she does rank high every year in the elections and brings so much attention to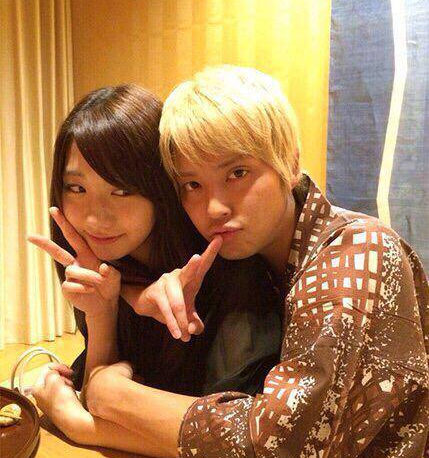 AKB as the reaction Queen.  This leaves us with evidence that the majority of Japanese fans are more disgusted with the punishment than the actual scandal. A lot of foreigners and Japanese fans alike once said "This is apart of Japan's culture". Okay, that was how long ago? Like Fujimoto Miki in Morning Musume long ago. Over the past decade the dating rule has become more and more under fire. Punishments and forced retirements have thrown the idols into shame and regret for exploring their sexuality and emotional needs. Of course fans still get a bit upset when their oshimen breaks a rule, however, they are not ours to control and Yuki's fans have made that VERY clear.
The dating rule was most prominently enforced back in 1997 when Morning Musume first debuted, their producer and agency promoted the innocent Idol look. This would influence future girl groups as time went on. Sometimes when you mix strict rules and adolescents you have scandals. The first major Idol scandal was back in 1999 when Country Musume's Kobayashi Azusa's nude photos were leaked just after her fellow member has been killed in a tragic car accident. The Hello!Project star became an AV porn star within months of leaving the group.. When AKB's Nakanishi Rina followed a similar path it was also a high profile scandal. Obviously, as we see by comparing other Idol groups scandals happen.. It's hard to tell grown women they can't act on their emotions. Some scandals are a bit more intense than the dating scandals wouldn't you agree?
We aren't exactly in 1997 or the early 2000s anymore, we don't have cute little Abe Natsumi's face promoting Idols when this rule was a fan favorite! Japan has been recently moving away from the cute image and into the "sexy hafu" look. These days we have people like Rola and Sashihara Rino leading the female Idols to stardom and they promote a less cute, more sexy influence in Japan.
Perhaps the management of AKB48 has been forced to re-consider how they should treat their idols for having a life outside of work. The rules should still be enforced when it comes to the younger members to ensure they have no regrets for doing anything too early in life.
Kashiwagi Yuki is the first out of AKB48 that has not received a large penalty equivalent to Watanabe Miyuki and others. However, until they officially link her movement to NGT48 we can't officially declare she's punishment free. AKB48 has not made an official statement on whether the couple is still together or not. Personally, I'm not a big fan of the man in the photos, he is also an Idol. He is a player and has bee spotted with another woman in 2014, about a few months after the photos of him and Yuki were taken. If that is the case and she was cheated on she really deserved our support more than ever. Although, we can not confirm the two were together at this time. 
So, I want to thank all of her Japanese and abroad wotas who have cheered for Kashiwagi Yuki as she felt totally helpless and guilty for being involved in a romantic relationship!
-Sunakku
Sources
Fan opinions are on twitter and 2ch threads.. not that I read 2ch……. 
Morning Musume history – hello!online
AKB history – stage48
Japan's cute – sexy trend change I've found in Jvlogger videos on youtube, just type in "hafu trend" and you'll see some stuff
Yuki's "scandal" it's everywhere
I pretty much googled everything, I just want to back myself up! I'm not sure what the future holds regarding the dating scandal, but the trends in fan reactions support my theories